Its a sad fact of life that the internet is home to a large number of websites that have not been created to entertain, educate or otherwise provide any useful purpose.
Instead, a small handful of sites are designed for the purpose of taking your money or infecting your computer.
If you wish to avoid websites that promote scams, worms, viruses, identity theft and other undesirable purposes then could MyWot be the solution?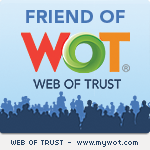 MyWOT (Web of Trust) is a free program that provides ratings for over 22 million websites.
Through the rating system MyWot can help users determine whether any of the sites in their database pose a risk, be it in terms of spam or viruses, through selling fake goods or because they have been known to scam their users.
Web of Trust works because it allows its community of users to determine the reputation of any given site though such a system can, of course, be somewhat subjective and I imagine that where a site only has a handful of responses there is the possibility that the results could be 'gamed' to a certain degree.
MYWOT IS EASY TO INSTALL
If you wish to use the MyWot service then it is fairly easy to do so – just visit their site and download the add-on for either Internet Explorer or Firefox.
Once you have the add-on installed into your browser you can customise your settings and then you will see icons next to the search results in Google.
These icons are colour-coded thus –
green suggests that the site can be trusted
yellow indicates that you should proceed with caution
red means STOP!
Should you click on one of the links that has a red circle next to it, either inadvertently or on purpose, then a custom page will displayed, warning you that you are visiting a site that may be dangerous.
You are, however, given a link to click should you wish to proceed and visit that page anyway.
RATE THE SITES YOU VISIT
With the add-on you also get the opportunity to rate sites yourself.
Whilst visiting a website you will be able to press a button at the top of your browser which will allow you to assign different ratings to the site, based on a few different categories which are –
Trustworthiness
Vendor Reliability
Privacy
Child Safety
CONCLUSION
As I mentioned earlier, sites which only have a couple of ratings may be, potentially, incorrectly rated.
However, any site that has been rated by a large group of people is likely to have an overall rating that is somewhat more accurate.
Obviously MyWot is no substitute for common sense or a good suite of internet security products but it does add an extra, and genuinely useful, layer of protection to your internet surfing experience.